Momina Mustehsan beams with pride as brother takes Brooklyn audience by storm
By News Desk
August 9, 2023 02:29 PM
---
Acknowledged Pakistani musician Momina Mustehsan has lately been spotted attending a concert in Brooklyn America during the span of which her brother managed to take the audience by storm, why?
Also Read: Young Pakistani girls in awe witnessing Javeria Raheel ace life with VITILIGO
Obviously because the young man knows how to offer just the right vocals to provoke the desired impact. 'Tera Woh Pyar' sensation Momina has been spotted in a picture with her brother, the duo looking mighty cheerful as they pose for some pictures at the Brooklyn concert
Taking to her Instagram handle, the Pakkitani singer (Momina) shared a story which featured snippets from the concert while the lady also expressed emotions of sheer pride for her sibling, stating:: "Was a proud sister tonight."
View this post on Instagram
View this post on Instagram
Haider Mustehsan has been spotted singing a mighty popular Bollywood music track known as 'Dekhte Dekhte' while the song has originally been sung by legendary Pakistani singers Nusrat Fateh Ali Khan and Atif Aslam.
https://www.youtube.com/watch?v=jBQpGiubj0c
https://www.youtube.com/watch?v=rtDw-_1Gh0Q
As soon as the relevant video went viral on the internet, netizens started sharing appreative remarks for Haider Mustehsan's melodious rendition.
Also Read: Internet in frenzy deciphering if Shamoon's verbal assaults are directed at his daughter
View this post on Instagram
View this post on Instagram
View this post on Instagram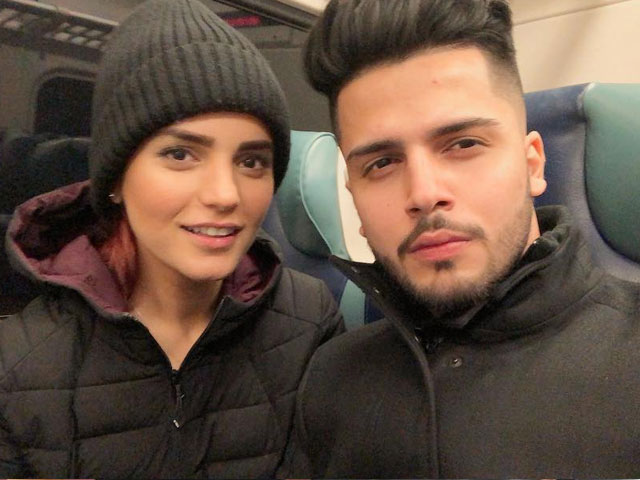 https://www.youtube.com/watch?v=K6yb6OGcO78
https://www.youtube.com/watch?v=pUbQTUkZI3s
https://www.youtube.com/watch?v=8n2RISzrJ4c
---